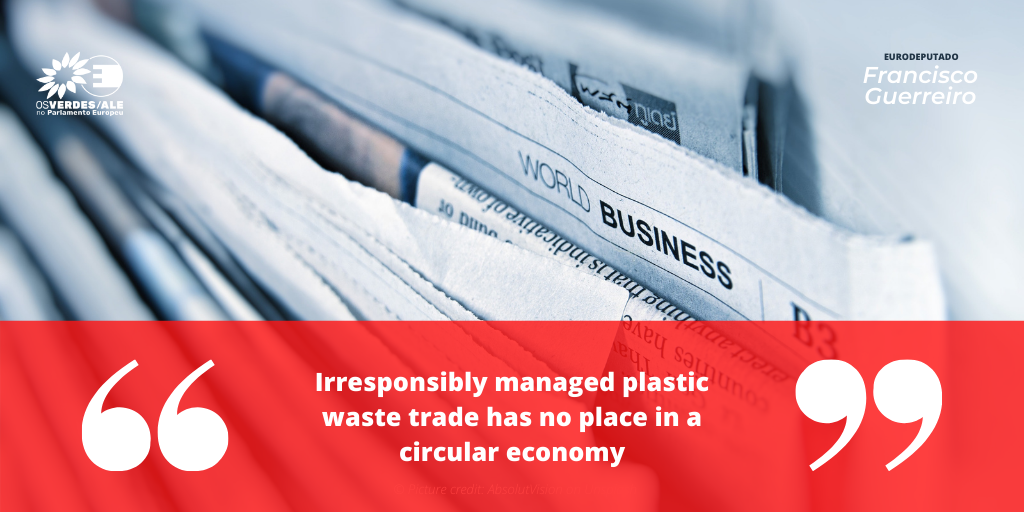 Break Free From Plastic: 'Irresponsibly managed plastic waste trade has no place in a circular economy'
astic waste trade creates immeasurable harm to society, health and the environment that is felt disproportionately across the world, and has been happening for decades. While those benefiting from plastic waste trade argue that it is necessary in a globalised circular economy, we believe that plastic waste trade disregards the proximity principle and evades responsibility for ensuring correct waste management and is therefore unfit for a true and safe circular economy.
We cannot aim to achieve a truly safe circular economy with ambitious reductions in resource use, while we continue to offload the burden of our plastic waste elsewhere. This manifesto is a call to European Union institutions to legislate, through the Waste Shipment Regulation, an end to plastic waste exports from the Union and intra-EU management of European plastic waste that is in line with a genuine circular economy, as outlined in the Circular Economy Action Plan and Green Deal.
34 Supporting Members of the European Parliament:

Eleonora Evi – Group of the Greens/European Free Alliance – Italy
Grace O'Sullivan – Group of the Greens/European Free Alliance – Ireland
István Ujhelyi – Group of the Progressive Alliance of Socialists and Democrats in the European Parliament – Hungary
César Luena – Group of the Progressive Alliance of Socialists and Democrats – Spain
Martin Hojsík – Renew Europe Group – Slovakia
Jutta Paulus – Group of the Greens/European Free Alliance – Germany
Piernicola Pedicini – Group of the Greens/European Free Alliance – Italy
Cyrus Engerer – Group of the Progressive Alliance of Socialists and Democrats in the European Parliament – Malta
Marie Toussaint – Group of the Greens/European Free Alliance – France
Sara Matthieu – Group of the Greens/European Free Alliance – Belgium
Martin Häusling – Group of the Greens/European Free Alliance – Germany
Pär Holmgren – Group of the Greens/European Free Alliance – Sweden
Sarah Wiener – Group of the Greens/European Free Alliance – Austria
Manuela Ripa – Group of the Greens/European Free Alliance – Germany
Michèle Rivasi – Group of the Greens/European Free Alliance – France
François Alfonsi – Group of the Greens/European Free Alliance – France
Benoît Biteau – Group of the Greens/European Free Alliance – France
Damien Careme – Group of the Greens/European Free Alliance – France
David Cormand – Group of the Greens/European Free Alliance – France
Gwendoline Delbos-Corfield – Group of the Greens/European Free Alliance – France
Karima Delli – Group of the Greens/European Free Alliance – France
Yannick Jadot – Group of the Greens/European Free Alliance – France
Caroline Roose – Group of the Greens/European Free Alliance – France
Mounir Satouri – Group of the Greens/European Free Alliance – France
Salima Yenbou – Group of the Greens/European Free Alliance – France
Claude Gruffat – Group of the Greens/European Free Alliance – France
Aurore Lalucq – Group of the Progressive Alliance of Socialists and Democrats in the European Parliament – France
Mick Wallace – The Left group in the European Parliament – GUE/NGL – Ireland
Günther Sidl – Group of the Progressive Alliance of Socialists and Democrats in the European Parliament – Austria
Özlem Demirel – The Left group in the European Parliament – GUE/NGL – Germany
Isabel Carvalhais – Group of the Progressive Alliance of Socialists and Democrats in the European Parliament – Portugal
Francisco Guerreiro – Group of the Greens/European Free Alliance – Portugal
Milan Brglez – Group of the Progressive Alliance of Socialists and Democrats in the European Parliament – Slovenia
Alviina Alametsä – Group of the Greens/European Free Alliance – Finland

Disponível aqui
Partilhar artigo