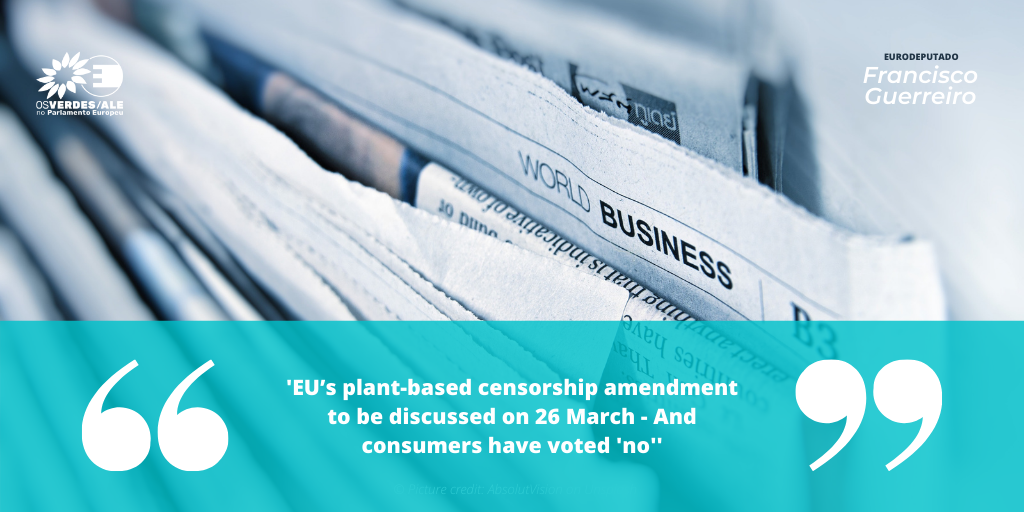 Proveg: 'EU's plant-based censorship amendment to be discussed on 26 March - And consumers have voted 'no''
Climate-hostile "Amendment 171" which seeks to censor plant-based alternatives to dairy is up for discussion during a "super trilogue" between the EU institutions on 26 March.

Now, over

390,000

consumers add their voices to the campaign to stop plant-based censorship.

EU has an opportunity to stop plant-based censorship and focus on modernising the Common Agricultural Policy and Common Market Organisation to best help people and planet instead.
This week marks a critical turning point for healthy, sustainable diets in Europe. Amendment 171 – the draft legislation to introduce severe new restrictions to plant-based foods, proposed in 2018 by the European Parliament's AGRI Committee – is up for discussion. On 26 March, the European Parliament, Commission and Council of Ministers participate in a "super trilogue," where topics under Common Organisation of the Markets in Agricultural Products (CMO) will be considered.
In the lead-up to the decision, the draconian amendment has been widely condemned by an extensive and diverse group of stakeholders including:
390,000

consumers via a

public petition

spearheaded by ProVeg, Upfield and Oatly and supported by

96

other organisations;
21 NGOs including WWF and Greenpeace in an

open letter

;

Representatives from the dairy industry, including the CEO of Berglandmilch, the biggest Austrian dairy co-operative – with over 11,000 members – in a

media statement

;

CECU (Consumer and User Confederation)

Placeholder for MEP letter

The European Consumer Organisation (BEUC)

wrote to MEPs

to campaign against the amendment last year, as they saw no justification to introduce such legislation; ·

A cross-sector group of 94 food companies and NGOs in a

public letter

; and

Environmental campaigner Greta Thunberg has also spoken out against it.
Now, the EU decides. Will they endorse an anti-competitive, environmentally reckless policy, and introduce a raft of new restrictions to plant-based foods? If they decide to extend the existing regulations by adopting Amendment 171, here is what could be banned for plant-based foods:
Familiar packaging formats like a carton for plant-based milk alternatives, or a block of plant margarine;

Visual depictions of plant-based foods if they could be judged as "evoking" or "imitating" dairy – for example, an image of a milky swirl on a package of oat drink;
Science-based green claims that compare plant-based foods to dairy foods, like "half the carbon emissions of dairy butter," across all communications including digital and social media;

Essential allergen information like "does not contain milk;"

Useful descriptive terms like "creamy," "buttery", "use like cooking cream" or "vegan alternative to yoghurt;"
"How many people need to insist they're not confused before this narrative can be seen for what it is? Now farmers, consumer associations, NGOs, food companies, members of the public – so many voices have come together to challenge AM171 and call out this blatant censorship. Sustainability itself is under threat. Let's take the climate crisis seriously and protect plant-based food. Our very future depends on it." Jasmijn de Boo, Vice President, ProVeg International
"We have been fending off anti-competitive attacks from the dairy industry since the 1870s. Now, the dairy lobby wants to use underhand regulation to illegalise the very words, packaging and imagery that the plant-based sector has used for decades. Consumers know this is wrong, and hundreds of thousands of them want their voice heard." says Dr Jeanette Fielding, Chief Corporate Affairs and Communications Officer, Upfield. "In the 21st century, this is no longer just a problem of anti-competition and consumer rights. It is also a problem of climate change, biodiversity and public health."
"We hope the EU sticks to its commitment to spearhead the global fight against climate change and throws out amendment 171. We are in a race against the climate clock, to introduce legislative barriers at a point when science shows how important it is to shift to plant-based diets to tackle climate change and public health challenges is not only wrong, it is absurd," says Cecilia McAleavey, Director of Public Affairs and Sustainable eating at Oatly.
How to get involved:
Sign and share the petition:

www.StopAM171.com

Tweet using #StopPlantBasedCensorship #StopAM171 
Notes to editors:
ProVeg International
ProVeg is an international food awareness organisation working to transform the global food system by replacing conventional animal-based products with plant-based and cultured alternatives. ProVeg works with international decision-making bodies, governments, food producers, investors, the media, and the general public to help the world transition to a society and economy that are less dependent on animal agriculture and more sustainable for humans, animals, and the planet. ProVeg has permanent-observer status with the UNFCCC, is accredited for UNEA, and has received the United Nations' Momentum for Change Award. www.proveg.com
Lê a notícia aqui
Partilhar artigo